ASB-203 / ASB-206
Sump/Effluent Pumps
HOME > Product
> ASB-203 / ASB-206
AS, ASB, and ASR Series provide years of trouble-free performance in residential and light commercial sewage and effluent applications. The most compact design with stainless steel and thermoplastic construction, the pumps are built multi-functionally to meet your most demanding requirements.
ASB-203 Sump Pump
0.25 Kw / 1/3 Hp
ASB-206 Effluent Pump
0.55 Kw / 3/4 Hp
Outlet – 50 mm (2 in.).
Max. head – up to 11 m / 39 ft., max. flow – up to 250 l/min / 63 gpm.
Oil free motor – safe for fish and plants.
Stainless steel motor housing and thermal plastic pump casing – lightweight with superior corrosion resistance.
Stainless steel shaft + dual ball bearings – quiet and long lasting.
Premium ceramic seal design – allows for continuous operation.
High performance – ideal for waterfalls and streams.
Standard cable length – 3 m (10 ft) / ASB-203, 6 m (20 ft) / ASB-206.
Tethered or vertical float switch is available upon request – ASB-203A or ASB-203AC, ASB-206A or ASB-206AC.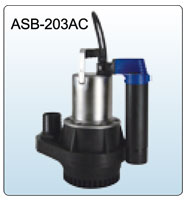 Model
Outlet
Output
Rated Flow @ Head
Max. Head & Flow
Solid Passage
Weight
50Hz
60Hz
50Hz
60Hz
mm
in
Kw
Hp
M
L/min
Ft
Usgpm
M
L/min
Ft
Usgpm
mm
in
Kgs
Lbs
ASB-203
50
2
0.25
1/3
5
90
20
26
7.5
200
30
45
6
0.2
4
8.8
ASB-206
50
2
0.55
3/4
8
90
26
24
11
250
39
63
6
0.2
6
13.2