FS-250 / FS-400 / FS-750 / FS-1500
Dewatering Pump
HOME > Product
> FS-250 / FS-400 / FS-750 / FS-1500
FS and FSR Series double casing dewatering pumps carrying versatile and functional state-of-theart design, made to withstand even the worst environment. The pumps are typically designed for 24H operations in construction fields.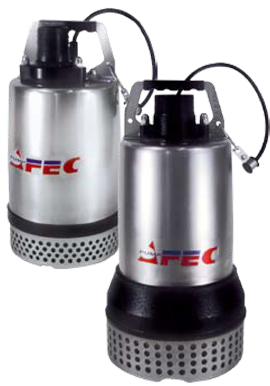 FS-250 Dewatering Pump
0.25 Kw / 1/3 Hp
FS-400
0.40 Kw / 1/2 Hp
FS-750
0.75 Kw / 1.0 Hp
FS-1500
1.50 Kw / 2.0 Hp
Outlet – 40 mm (1-1/2 in.) & 50 mm (2 in.).
Integrated stainless steel outer case, motor casing, and strainer.
Heat treated 410 stainless steel shaft.
Double mechanical seals (lower silicon carbide V silicon carbide, upper carbon/ ceramic) in oil chamber.
Dynamically balanced ductile iron impeller.
Oil-free motor, 1 & 3 phase, with thermal and over-current protector.
Class F insulation, IP 68 protection motor.
Max. liquid temperature: 40°C (104°F).
Standard cable: 6 m (20 ft.) or longer upon request.
Water level control: available upon request, FS-250A, FS-400A, FS-750A,and FS-1500SA.


Model
Outlet
Output
Rated Flow @ Head
Max. Head & Flow
Solid Passage
Weight
50Hz
60Hz
50Hz
60Hz
mm
in
Kw
Hp
L/min
M
Usgpm
Ft
L/min
M
Usgpm
Ft
mm
in
Kgs
Lbs
FS-250
40
1 1/2
0.25
1/3
100
6
32
20
200
8
53
28
5.5
0.2
12.5
27.5
FS-400
50
2
0.4
1/2
140
7
37
23
240
10
63
33
5.5
0.2
12.5
27.5
FS-750
50
2
0.75
1
200
10
53
33
320
15
85
49
7
0.3
14
30.8
FS-1500
50
2
1.5
2
250
13
66
43
450
20
119
66
9
0.4
23.5
51.7