TPS-355 / TPS-455 / TPS-475 / TPS-4110 /
TPS-6110 / TPS-6150 / TPS-6150L
Sand Pump
HOME > Product
> TPS-355 / TPS-455 / TPS-475 / TPS-4110 / TPS-6110 / TPS-6150 / TPS-6150L
TPS & TPA Series high volume sand pumps – most heavy- duty design with 4-pole motor for handling heavily polluted liquid. The cast iron construction extends pump life by preventing premature wear and failure from the abrasive materials found in mining, aggregate and construction applications.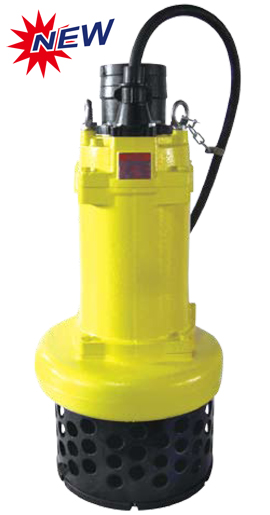 TPS-355 ~ TPS-6150L Sand Pump
5.5 ~ 15 Kw / 7.5 ~ 20 Hp
Outlet – 80 mm ( 3 in.), 100 mm (4 in.), and 150 mm (6 in.).
Max. head – up to 30.5 m / 100 ft.
Max. flow – up to 5500 l/min / 1453 gpm.
Fine casting discharge outlet and top cover.
Stainless steel strainer.
Heat treated 410 stainless steel shaft.
Double mechanical seals (lower silicon carbide V silicon carbide, upper carbon/ ceramic) in oil chamber.
Ball bearings lubricated for life and free maintenance.
Dynamically balanced high chrome steel impeller.
Oil-free motor, 3 phase, 4 pole, with thermal and over-current protector.
Class F insulation, IP 68 protection motor.
Max. liquid temperature: 40°C (104°F).
Standard cable:10 m (20 ft.) or longer upon request.
Discharge, inlet plate, and impeller are easily inter-changeable for different performance.
TPA-355 ~ TPA-6150L Sand Pump w/Agitator
5.5 ~ 15 Kw / 7.5 ~ 20 Hp

Rugged cast iron construction holds up to the most severe mining, aggregate, construction applications.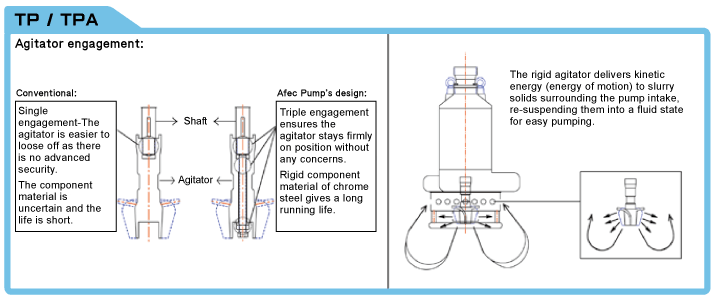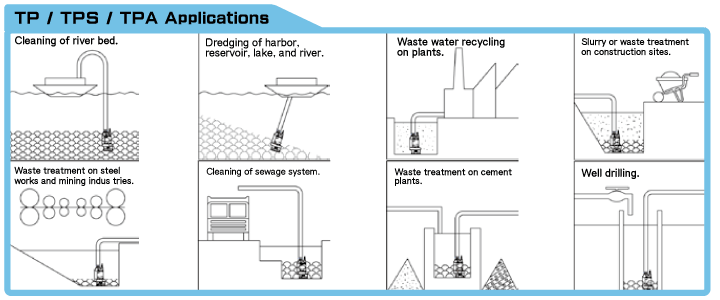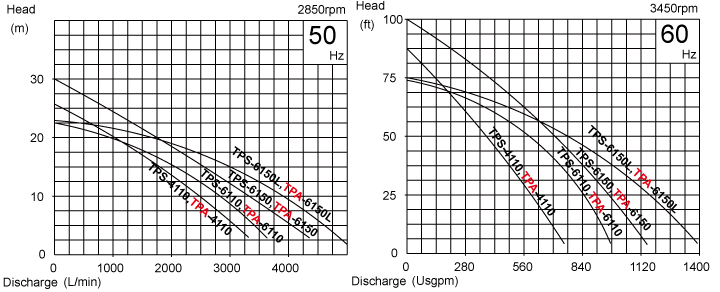 Model
Outlet
Output
Rated Flow @ Head
Max. Head & Flow
Solid Passage
Weight
50Hz
60Hz
50Hz
60Hz
mm
in
Kw
Hp
L/min
M
Usgpm
Ft
L/min
M
Usgpm
Ft
mm
in
Kgs
Lbs
TPS-355 / TPA-355
80
3
5.5
7.5
850
14
225
46
1700
21
449
69
25
1.0
128
281.6
TPS-455 / TPA-455
100
4
5.5
7.5
1100
12
291
39
2250
17.5
594
57
25
1.0
129
283.8
TPS-475 / TPA-475
100
4
7.5
10
1200
14
317
46
2480
18.5
655
61
25
1.0
129
283.8
TPS-4110 / TPA-4110
100
4
11
15
1500
16
396
52
3100
26
819
85
25
1.0
195
429.0
TPS-6110 / TPA-6110
150
6
11
15
1900
17
502
56
3700
22
977
72
35
1.4
196
431.2
TPS-6150 / TPA-6150
150
6
15
20
2100
20
555
66
4300
30.5
1136
100
35
1.4
204
448.8
TPS-6150L / TPA-6150L
150
6
15
20
3000
16
793
52
5500
23
1453
75
35
1.4
204.5
449.9