FNC-4110 / FNC-6110 / FNC-4150 / FNC-6150
FNC Single Channel Sewage Pump
HOME > Product
> FBC-322 / FBC-337 / FBC-437
High volume / non-clog sewage pump with single channel impeller to handle the solids up to 76 mm.
FNC-4110 FNC-6110 FNC-4150 FNC-6150
FNC Single Channel Sewage Pump
Construction:
Outlet - 100 mm, 150 mm.
Max head - 35 m.
Max flow - 5200 l/min @ 4M.
Fine cast iron construction - superior for heat dissipation.
Heat treated 410 stainless steel shaft.
Double mechanical seal CE/CA + SIC/SIC.
Single channel cast iron impeller.
Oil-free 4P motor with thermal and over-current protector.
Class F insulation, IP 68 protection motor.
Solid passage: 76 mm.
Applications:
Raw sewage.
Effluent.
Storm water.
Municipal and industrical drainage.
Removal of treaded liquid wastes.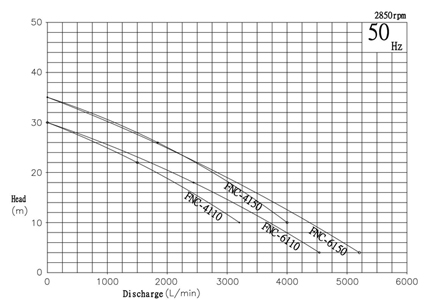 Model
Outlet
Output
Nor. Head
Nor. Capa
Max. Head
Max. Capa
Solid Passage
mm
Kw
M
L/min
M
L/min
mm
FNC-4110
100
11
1500
22
32000/10
30
76
FNC-6110
150
11
2400
18
4600/4
30
76
FNC-4150
100
15
1800
26
4000/10
35
76
FNC-6150
150
15
2500
22
5200/4
35
76