TP-355 / TP-455 / TP-475 / TP-4110 / TP-6110 / TP-6150 / TP-6150L
Slurry Pump
HOME > Product
> TP-355 / TP-455 / TP-475 / TP-4110 / TP-6110 / TP-6150 / TP-6150L
TP Series slurry pumps –most heavy-duty design with 4-pole motor for handling heavily polluted liquid containing clay, stone chips, drilling dust, and etc. Typically used for industry of mines, quarries, dredging, coal and ore slurries, sewage treatment plants, steel mills, and many others.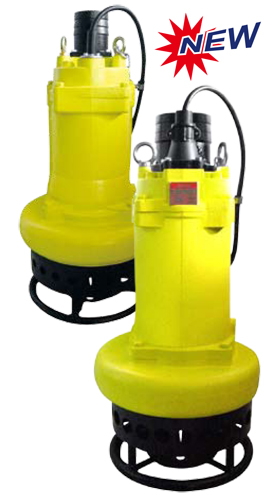 TP-355 / TP-455 Slurry Pump
5.5 Kw / 7.5 Hp
TP-475
7.5 Kw / 10 Hp
TP-4110 / TP-6110
11.0 Kw / 15 Hp
TP-6150 / TP-6150L
15.0 Kw / 20 Hp
Outlet – 80 mm (3 in.), 100 mm (4 in.), and 150 mm (6 in.)
Max. head – up to 30.5 m / 100 ft.
Max. flow – up to 5500 l/min / 1453 gpm.
Fine casting construction with top discharge.
Heat-treated 410 stainless steel shaft.
Double mechanical seals (lower silicon carbide V silicon carbide, upper carbon/ ceramic) in oil chamber.
Ball bearings lubricated for life and free maintenance.
Dynamically balanced high chrome steel impeller.
Oil-free motor, 3 phase, with thermal and over-current protector.
Class F insulation, IP 68 protection motor.
Max. liquid temperature – 40°C (104°F).
Standard cable length – 10 m (33 ft) or longer upon request.
Built-in high chrome steel agitator to create an inherent mixing at pump inlet.
A protective screen surrounding pump intake keeps the impeller and flow chamber clear and unclogged.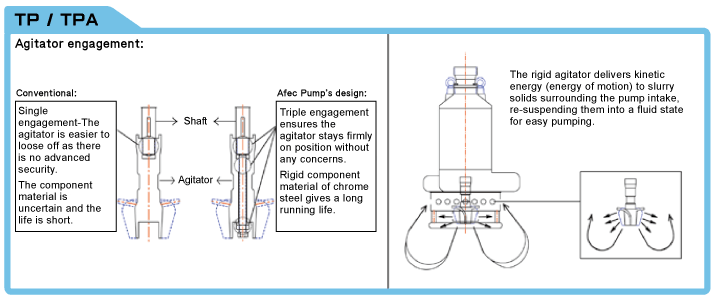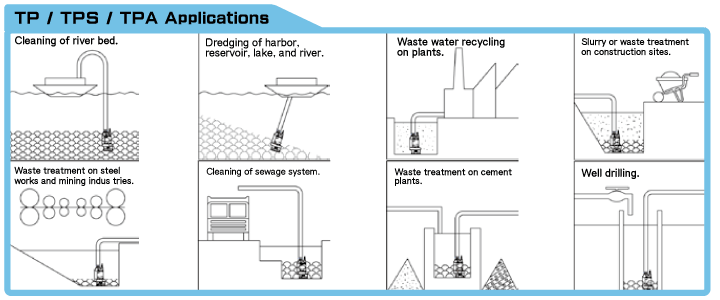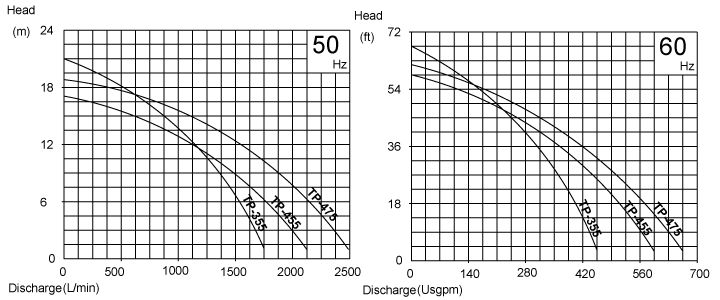 Model
Outlet
Output
Rated Flow @ Head
Max. Head & Flow
Solid Passage
Weight
50Hz
60Hz
50Hz
60Hz
mm
in
Kw
Hp
L/min
M
Usgpm
Ft
L/min
M
Usgpm
Ft
mm
in
Kgs
Lbs
TP-355
80
3
5.5
7.5
850
14
225
46
1700
21
449
69
25
1.0
123
270.6
TP-455
100
4
5.5
7.5
1100
12
291
39
2250
17.5
594
57
25
1.0
124
272.8
TP-475
100
4
7.5
10
1200
14
317
46
2480
18.5
655
61
25
1.0
124
272.8
TP-4110
100
4
11
15
1500
16
396
52
3100
26
819
85
35
1.4
191
420.2
TP-6110
150
6
11
15
1900
17
502
56
3700
22
977
72
35
1.4
192
422.4
TP-6150
150
6
15
20
2100
20
555
66
4300
30.5
1136
100
35
1.4
201
442.2
TP-6150L
150
6
15
20
3000
16
793
52
5500
23
1453
75
35
1.4
201
442.2