H-6370 / JH-8370 / JH-6450 / JH-8450
JH Contract Dewatering Pump
HOME > Product
> H-6370 / JH-8370 / JH-6450 / JH-8450
Heavy duty high flow, high head performance for effluent transfer, construction site drainage, and industrial dewatering. Center discharge design reduces the base area and facilitates locating and positioning in confined spaces, and enables efficient motor cooling when pumping small amount of water.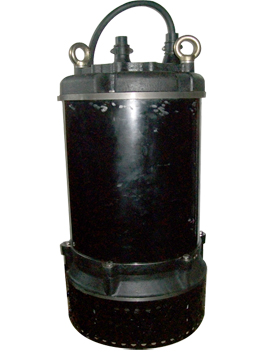 H-6370 / JH-8370 / JH-6450 / JH-8450
JH Contract Dewatering Pump
Construction:
Outlet - 150 mm, 200 mm.
Max head - 75 m.
Max flow - 1100 l/min.
Fine casting discharge outlet and top cover.
Rigid stainless steel outer case and strainer.
Heat treated 410 stainless steel shaft.
Double mechanical seal CE/CA + SIC/SIC.
Dynamically balanced high chrome steel impellers
Oil-free 2 pole motor with star-delta starting.
Class F insulation, IP 68 protection motor.