TP-6220 / TP-8220
TP Slurry Pump
HOME > Product
> TP-6220 / TP-8220
Heavy duty design with 4P motor for handling heavily polluted liquid containing clay, stone chips, drilling dust. Typically used for industry of mines, quarries, dredging, coal and ore slurries, steel mills, and many others.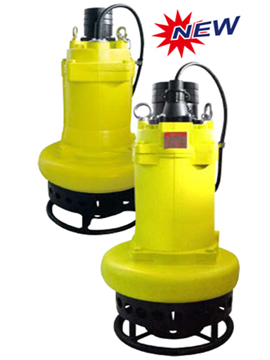 TP-6220 / TP-8220
TP Slurry Pump
Constructions:
Outlet - 150 mm, 200 mm.
Max head - 30 m.
Max flow - 6500 l/min.
Fine casting construction with top discharge.
Ball bearings lubricated for life and free maintenance.
Heat treated 410 stainless steel shaft.
Double mechanical seal CE/CA + SIC/SIC.
Dynamically balanced high chrome steel impeller.
Built-in high chrome steel agitator to create an inherent mixing at pump inlet.
A protective screen surrounding pump intake keeps impeller and flow chamber clear and unclogged.
Oil-free motor with thermal and over-current protector.
Class F insulation, IP 68 protection motor.
Applications:
Cleaning of river bed.
Dredging of harbor, reservoir.
Waste water recycling.
Slurry or waste water treatment.
Well drilling.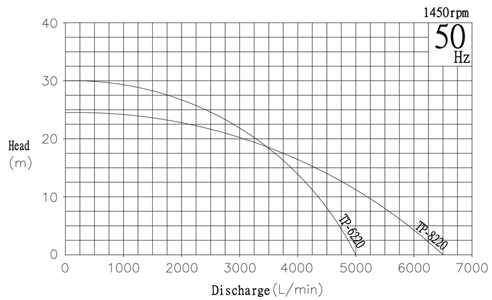 Model
Outlet
Output
Nor. Head
Nor. Capa
Max. Head
Max. Capa
Solid Passage
mm
Kw
M
L/min
M
L/min
mm
TP-6220
150
22
24
2800
30
5000
30
TP-8220
200
22
18
3800
24
6500
38