BV-322 / BV-337 / BV-455
Heavy Duty Sewage Pumps
HOME > Product
> BV-322 / BV-337 / BV-455
BV Series – semi-vortex sewage pumps, unique non-clogging design suitable for carrying heavily polluted waste water containing grass, sand, stones, and etc.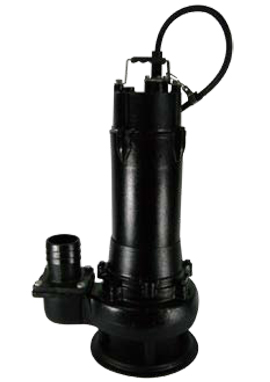 BV-322 Sewage Pump
2.20 Kw / 3.0 Hp
BV-337
3.70 Kw / 5.0 Hp
BV-455
5.50 Kw / 7.5 Hp
Outlet – 80 mm (3 in.) and 100 mm (4 in.).
Fine cast iron construction – superior heat dissipation.
Heat treated 410 stainless steel shaft.
Double mechanical seals (lower silicon carbide V silicon carbide, upper carbon/ ceramic) in oil chamber.
Oil-free motor, 3 phase, with thermal and over-current protector.
Class F insulation, IP 68 protection motor.
Dynamically balanced cast iron impeller – vortex effect to carry soft or fibrous materials without clogging.
Unique non-clog design for handling waste water containing grass, sand, and various solids.
Solid passage: up to 55 mm (2.2 in.)
Max. liquid temperature – 40°C (104°F).
Standard cable length – 10 m (33 ft), or longer upon request.


Model
Outlet
Output
Rated Flow @ Head
Max. Head & Flow
Solid Passage
Weight
50Hz
60Hz
50Hz
60Hz
mm
in
Kw
Hp
L/min
M
Usgpm
Ft
L/min
M
Usgpm
Ft
mm
in
Kgs
Lbs
BV-322
80
3
2.2
3
360
12
95
39
850
17
225
56
55
2.2
40
88.0
BV-337
80
3
3.7
5
450
15
119
49
1200
18
317
59
55
2.2
49
107.8
BV-455
100
4
5.5
7.5
720
17
190
56
1300
24
343
79
55
2.2
69
151.8