FS and FSR Series double casing dewatering pumps carrying versatile and functional state-of-theart design, made to withstand even the worst environment. The pumps are typically designed for 24H operations in construction fields.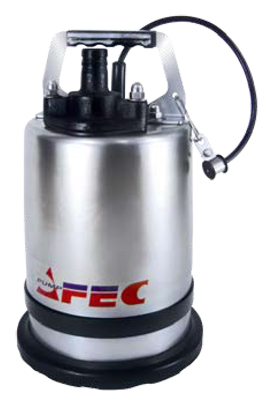 FSR-400 Residue Pump
0.40 Kw / 1/2 Hp
Outlet – 25 mm (1 in.) or 50 mm (2 in.).
Max. head – 11 m / 36 ft., Max. flow – 240 l/min / 63 gpm.
Heat treated 410 stainless steel shaft.
Double mechanical seals (lower silicon carbide V silicon carbide, upper carbon/ ceramic) in oil chamber.
Oil-free motor, 1 phase, with thermal and over-current protector.
Class F insulation, IP 68 protection motor.
PU impeller – easy maintenance and service.
Max. liquid temperature – 40°C (104°F).
Standard cable length – 6 m (10 ft), or 10 m (33 ft.) upon request.
High performance – start-up at and pump-down to 2 mm water level.
Ideal applications – removing residue water, drainage of flat surfaces on rooftops, parking lots,pools, basement, and etc..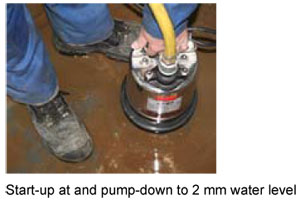 Model
Outlet
Output
Rated Flow @ Head
Max. Head & Flow
Solid Passage
Weight
50Hz
60Hz
50Hz
60Hz
mm
in
Kw
Hp
L/min
M
Usgpm
Ft
L/min
M
Usgpm
Ft
mm
in
Kgs
Lbs
FSR-400(1")
25
1
0.4
1/2
80
7
21
23
130
11
34
36
2
0.1
14
30.8
FSR-400(2")
50
2
0.4
1/2
140
7
37
23
240
11
63
36
2
0.1
14
30.8